UB Casino and Blackjack
Few people realize it when they first sign up for an account, but the UB software is also integrated with a real money blackjack and casino interface. If you ever get tired of poker or want go for the big money, you can access the casino and blackjack tables by logging in to your account and clicking on the "blackjack" or "casino" tabs. The UB Referral Code bonus applies to the UB Poker side of things, but if you are signing up for the casino be sure to enter it anyway in case you play a few hands of poker!
UB Casino
Although UB's focus is online poker, their online casino is as nicely done as any straight up casino site. They have about 90 different casino games to choose from in categories that include table games, slots, 3D slots, video poker, progressive jackpot games, Keno and even a virtual horse racing game.
The graphics on all the games are impressive, most especially with the 3D slot machines. The games are all richly detailed and include smooth, realistic animations. The one problem, however, is that the animations on the table games are almost unbearably slow. I was only able to play one hand of Caribbean Stud before I got fed up with the game and went back to the slot machines.
Other than that, the UB casino is definitely worth a look. It doesn't offer anything super unique but it's worth checking out if you have an account at UB. The casino games are always a nice distraction whenever the poker tables get old or if you just can't seem to hit your groove.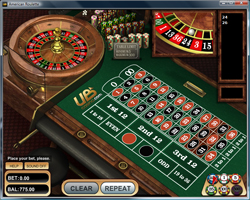 UB Blackjack
In most cases, the blackjack tables would simply be filed away under the "casino" section and be done with. UB has taken a different approach with blackjack, however, by setting up multi-player blackjack tables and hosting a variety of blackjack tournaments.
The blackjack tables accept bets that range in size from $0.10 to $500 per hand. Each table can fit up to 7 players and the players are allowed to chat just like in a normal casino. This makes for a more engaging and interesting experience. It's also fun to sit in next to high rollers who are betting $250 a pop and see how their luck runs.
The blackjack tournaments at UB are set up elimination-style in which the players with the lowest chip counts at the end of each round are eliminated. As the tournament progresses, the players with the fewest chips are eliminated until there is one winner. The cool thing about blackjack tournaments is they give you a chance to play a lot of blackjack with minimal investment.